[/vc_column_text][/vc_column][/vc_row]
Produce prepared by hand, cooked in small batches and hand-poured into jars.
Our handcrafted preserves capture the bright tastes of the summer harvest.

Apple Pie In A Jar
Apricot Jam
Black Cherry Jam
Black Currant Jam
Blackberry Jam
Blackberry Raspberry Jam
Blueberry Jam
Bumbleberry Jam
Carrot Cake Jam
Cranberry Apple Jam
Cranberry Raspberry Jam
Dutch Apple Pie Jam
Elderberry Apple Jam
Gooseberry Jam
Peach Jam
Pear Jam
Pear Ginger Jam
Raspberry Jam
Raspberry Saskatoon Jam
Rhubarb Jam
Saskatoonberry Jam
Sour Cherry Jam
Strawberry Jam
Strawberry Rhubarb Jam

Apple Butter
Pumpkin Butter

Apple Jelly
Black Currant Jelly
Crabapple Jelly
Elderberry Jelly
Grape Jelly
Mint Jelly
Raspberry Jelly
Red Currant Jelly
Red Pepper Jelly
Hot Red Pepper Jelly
Chunky Pepper Jelly
Hot Chunky Pepper Jelly
Jalapeño Pepper Jelly
Tequila Sunset Jelly

Cranberry Rum Jam
Sundae In A Jar Jam

Ginger Marmalade
Peach Orange Marmalade
Seville Marmalade

Blueberry Spread
Bumbleberry Spread
Peach Spread
Raspberry Spread
Strawberry Blueberry Spread

Apple Chutney
Cranberry Citrus Chutney
Mango Chutney
Spicy Peach Chutney

Chili Sauce (250ml & 490 ml)
Corn Relish (375 ml)
Cucumber Relish (375 ml)
Salsa (490 ml)
Black Bean & Corn Salsa (250ml & 490 ml)
Vegetable Antipasto (250 ml)
Vidalia Onion Relish (250 ml)

Sweet Pickles
Bread & Butter Pickles
Pickled Beets
Pickled Asparagus
Hot Pickled Asparagus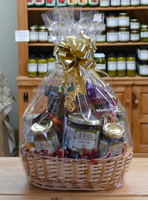 Starting at $10.00, a gift basket can be created for any occasion. Choose from pre-designed baskets or create your very own customized gift.
A selection of jams, jellies and preserves are available as well as gourmet tea, coffee, shortbreads, cookies, nuts, chocolates, plus an assortment of candies.
You can also bring your own additions, including wine, cheese, nuts or marketing materials such as pens, mugs or magnets to add a custom flair to your basket.
Gift baskets are pick up only. Sorry, we are not able to ship or deliver.